Sol Charger™
Solar Powered Charger
Flexible charging power­—use solar panel or AC-USB wall adapter

Charge 2 AA rechargeable batteries with solar panel or through the USB port.
Charge electronic devices through the USB port.

Rugged, compact cover design for use indoors or out.
Use clip hook for attaching to backpack or clothing, keeps batteries charged as you're hiking, walking, or doing any other outdoor activities.
Kick-stand on back of charger allows solar panel to be angled in direct sunlight at different times of the day—will even charge through a window!
LED indicator light illuminates to show charging direction—

LED glows green when IN/OUT switch set to "IN", batteries receiving power from solar panel or USB port.
LED glows red when IN/OUT switch set to "OUT", electronic device receiving power from fully charged batteries, solar panel turns off.

Packaged in eco-friendly materials, including post-consumer recycled cardboard and recyclable PET plastic.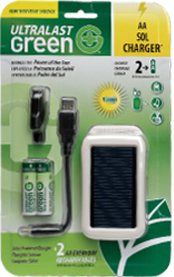 Includes:
2 AA UltraLast Green™ Everyday Rechargeables™ batteries
AC-USB wall adapter
Interchangeable USB cable
USB and Mini USB connectors
Charger: 1 Year Limited Warranty
Batteries: 3 Year Limited Warranty
Find the Sol Charger™
at these retailers:
Amazon.com
Buy.com
Airport Wireless
In Motion
Interstate Batteries
FRYS.com (coming soon)
Walmart.com (coming soon)